The best time to visit The Netherlands? That's by far the 27th of April. Why? Because it's King's Day of course! On this day the Dutch are celebrating the birthday of their king: King Willem-Alexander. It is the day when the whole country turns orange and goes crazy to celebrate his birthday.
History of King's Day
Initially, King's Day was called Princess' Day (Prinsessedag) and was first celebrated in 1885, the 5th birthday of Princess Wilhelmina.
When Princess Wilhelmina became the new queen in 1890, she changed the name to Queen's Day (Koninginnedag). Queen's Day gained more popularity amongst Dutch citizens after 1902 when Queen Wilhelmina recovered after a severe illness. Successive queen Juliana continued the tradition and made the day into a national holiday. This resulted in all Dutch citizens having a day off to celebrate the solidarity of the nation.
When her daughter Princess Beatrix became queen, she made the holiday even more about unity and took her entire family to travel around the country (instead of having people visiting her). Her son, King Willem-Alexander followed her in this tradition when he became King in 2014 and changed the name to King's Day (Koningsdag).
What started out as one day a year full of children's activities is now turned into one big party in the Netherlands for young and old alike.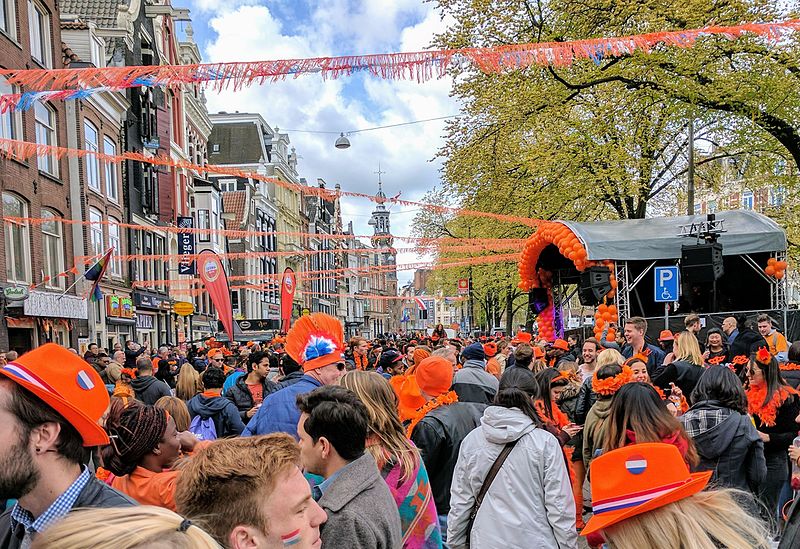 Activities during King's Day
During King's Day, there are a wide variety of events happening all over the country. From small activities for kids to big festivals with the best DJs. If you want to spend a full day doing all kind of stuff, it's best to visit one of the five most active King's Day cities: Amsterdam, Rotterdam, The Hague, Utrecht, and Eindhoven. Let us give you a brief overview of some of the activities you can do:
King's Day flea market
King's Day traditionally starts with flea markets happening everywhere. It's the one day per year that it's allowed to set up shop on the streets without the need of a trading license. Kids and adults alike use this day to sell their old stuff and earn a few extra euros.
Selling is permitted from 06:00 until the evening (time varies between cities). If you are looking for some sweet deals be sure to be at the flea market on time. The best items will be sold before noon. In Utrecht, the flea market starts on the 26th at 18:00 and lasts for 24 hours. How's that for a flea market, right?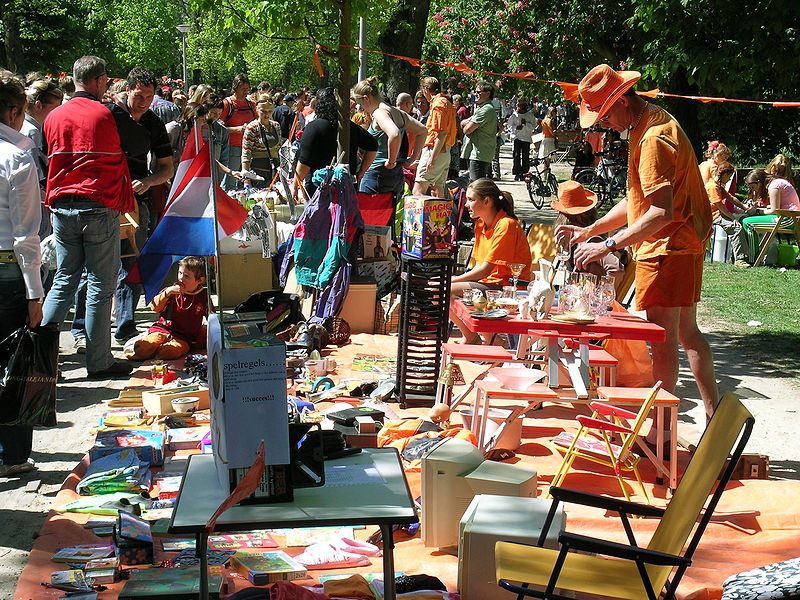 Party in the streets
Did you come to The Netherlands for a party? It won't be a problem finding one. On King's Day, all streets are full of outdoor parties. People head out to celebrate, play music and sell food and drinks. Everywhere you look, you will see people celebrating.
Prefer bigger parties? There are a lot of festivals going on in the bigger cities as well. Our recommendation? The annual 'Life I Live' festival in The Hague is the best place to go for a great party. And above all: it's free!

See the Dutch King and Queen
Traditionally, King Willem-Alexander and Queen Máxima visit one or a few places in The Netherlands during King's Day. Festivities are being held to entertain the royalties, If you want to see the Dutch Royal family, this is your chance. If the city they are visiting is too far away, you can always turn on your TV as the event will be broadcasted.
King's Night
The Dutch wouldn't be the Dutch if they didn't add an extra day to their holidays. The night before King's Day is called King's Night (Koningsnacht) and attracts lots of party-goers. Even on the night before King's Day, you can find a lot of parties happening everywhere.
Many people go to party in Amsterdam on this night, but there are various other hotspots as well.

Tips for King's Day
For first-time visitors, we've selected a couple of tips to survive this day of orange fever (oranjegekte). Check them out to be fully prepared:

Turn up on the right day
Sounds logical right? But you wouldn't be the first to show up to the party a few days late. Since 2014 the Dutch national holiday is moved from April 30th to April 27th due to the royal abdication. Every year there are several people (mostly tourist) walking around in orange on April 30. Forewarned is forearmed.
Wear orange
Completely optional, but highly advised. Blend in with the locals by wearing orange pants, sweaters, caps, wigs or basically anything orange. If you have a normal wardrobe, be advised: if you want to go last-minute shopping for orange clothes you might get disappointed. In the days before King's Day, there is a run on this particular color. If you don't get your hands on orange, it's still possible to go with the colors of the Dutch flag: red, white and blue.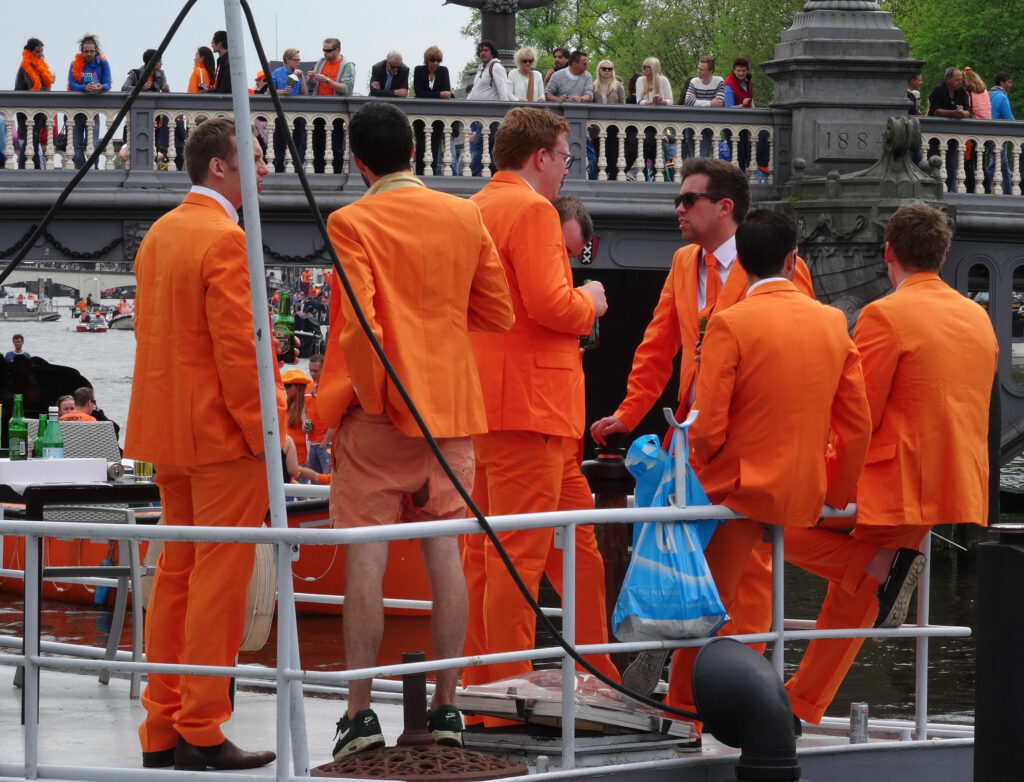 Grab enough cash
The ATM's in big cities will run out quite fast. Besides paying with coins and paper money at the many flea markets around, you will also need it to pay if you want to go to the toilets in bars and restaurants. Come prepared and go to the ATM the day beforehand.

Check the public transport schedules
On King's Day, public transport takes different routes. Trams and buses don't go to city centers because these are entirely blocked by masses of people. Trains will go more often in the direction of bigger cities but might skip some of the smaller train stations. Want to know if anything changes for you, check the 9292-website.

Wear comfortable shoes
You are going to walk a lot this day so make sure to wear comfortable shoes. Events are spread across the city, so wearing sneakers isn't a bad idea.

Watch out for pickpockets
Wherever there are large crowds there are pickpockets ready to get a hold of your valuables. Watch out when you walk into the masses, don't wear your bag on your back and keep a hand on your belongings. Did something get stolen? File a report at the police station. (Undercover) police officers are working all day long to catch thieves and might get a hold of your missing items.
The most important tip of them all: enjoy! King's Day is one of the few days you'll get a glimpse of Dutch people going crazy.